Yorkshire Terrier AKC Studs
Russell Stover of Chandler Run
AKC reg w/ AKC DNA
chocolate male
carries blonde and parti
charting to be 3 to 3.5 lb
What a wonderful addition to our breeding program. This little chocolate male has an exquisite long silky coat, handsome small face and nice ears, and the desirable cobby body that typifies the Yorkie breed. He has heart and mind big enough to take on a bear! We will be breeding him to some of the females we are selecting to keep after retiring several others. We anticipate some amazing puppies!
Meet Diamond Rio, who has so many desirable qualities that we are thrilled to have him in our breeding program. He is out of Anna (mother to Thumbaleena and Charm) and our born-platinum-blonde Avatar.
True Born Platinum Blonde
3.5 lb
Super silky coat
Cute tiny face, apple head, big eyes
Small ears, short legs, cobby body
AKC reg w/AKC DNA
Chandler Run's Sterling
Blonde Chocolate
Carries for parti
AKC reg w/AKC DNA
Charting to be 3.5 lb
Sterling is one of our upcoming studs for the fall of 2015. He has been tested with Animal Genetics and is bb chocolate, yet such a rich, stunning blonde color with chocolate nose, pades and eye rims! He also tested to carry parti. What a joy and little lover boy already, strutting around his dad Stover and prancing around all the girls here at Chandler Run. We have high hopes for this little man!
Stalone
Traditional
AKC reg w/AKC DNA
4 lb
With his beautiful coat, tiny face and short legs, Stalone is a small package with a courageous heart. His puppies are extraordinary.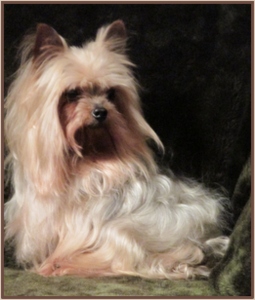 Stedmen
Traditional
AKC reg w/AKC DNA
3.5 lb
Carrier, Color Producer
Chocolate Producer
Stedmen has produced golden, blonde, and chocolate pups, and is sire to our chocolate female, Toffee. In addition to being small-boned with a beautiful silky coat and tiny face, he is such a sweetheart! This small but mighty Yorkie is perfect for our breeding program and stud service.