How to Purchase Your Puppy
We have top quality puppies available with full American Kennel Club (AKC) registration and current vaccinations. They are examined by a vet and come with a one-year genetic health guarantee. They have beautiful coats, adorable tiny faces, and are raised lovingly in our home to help them become well-socialized with happy, friendly personalities and affectionate natures. These Yorkie pups make great family pets, and we dedicate ourselves to the health and happiness of our puppies and to the satisfaction of their new owners.
We have a shipper who will hand deliver your puppy to you at your airport. The puppy will never go into cargo, but rides on the lap of our delivery person in a cloth carrier. Much less stress on your new puppy! (Shipping expense is the responsibility of the purchaser.) Here is Cindy Chandler Lucas about to meet the "lap nanny" at the airport.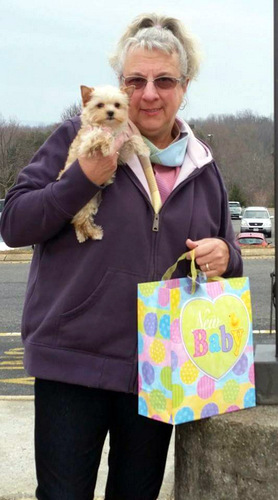 Upcoming Litters
Our breeding program stays active throughout the year. Contact us by calling the number in the footer of this website, or by clicking on the email link in the footer or the "Contact Us" tab in the navigation bar, and reserve your puppy with a deposit now!
What's included
--AKC registration papers
--Vaccination record
--Veterinarian examination
--One-year Genetic Health Guarantee
--Instructions on crate training
--Gift Bag with blanket, toys, puppy food, treats
--Referrals upon request (veterinarian, puppy buyers)
--Shipping arrangements (buyer's expense)

Crate and Gift Bag With Every Pup
Upon request, we can refer you to our veterinarian and to families who have purchased puppies from us in the past. We make things as easy as possible for you to acquire your puppy by accepting Paypal and arranging shipping (expense of new owner).