Yorkshire Terrier Breeding Females
Chandler Run's Ambrosia
AKC reg w/ AKC DNA
6 pounds
Blonde parti
Carries for chocolate
5 generations by Chandler Run
With her gorgeous silky coat, lovely blonde parti color, and awesome personality, Ambrosia is perfect for our breeding program. She's the mother of Starbucks, the new stud we are so proud to introduce this fall. She represents five generations of Chandler Run females with AKC-registered DNA.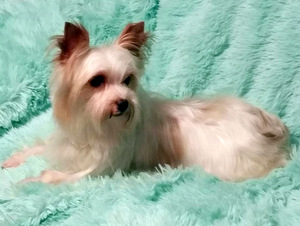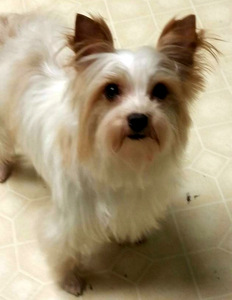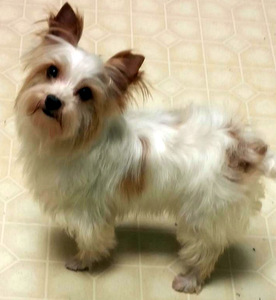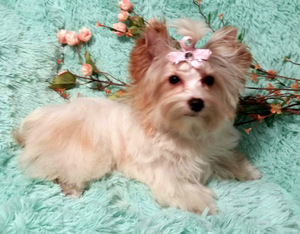 Charmin
5 pounds
Blonde parti
Carries for chocolate
5 generations by Chandler Run
Introducing Charmin, our five-pound blonde parti breeding female who carries for chocloate. She's so beautiful with the typical silky coat of our Chandler Run Yorkies. We predict some desirable puppies from this lovely lady.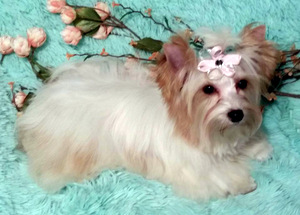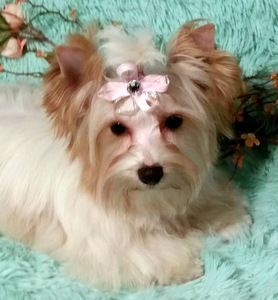 Chandler Run's Cream Chiffon
AKC reg w/ AKC DNA
5.5 pounds
Blonde chocolate parti
Wow, such color on this beauty! We can't wait to see her babies this winter. She's registered as blonde chocolate parti, what a lovely mix!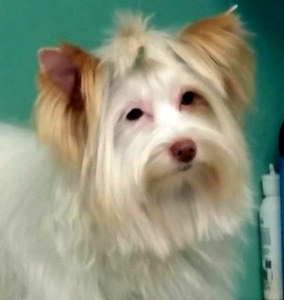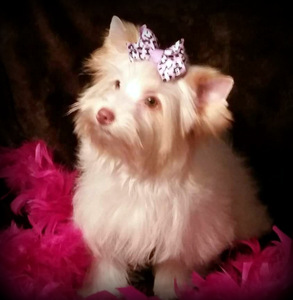 Chandler Run's
Lovnme Some Ivory N Lace
AKC reg w/ AKC DNA
5 lb
Blonde chocolate (tested)
Carries for parti
Ivory is the total package -- 5 pounds of beauty in this baby girl. Tested with Animal Genetics, Ivory is bb chocolate. With her exquisite blonde color, she has a choocolate nose, lips, eye rims and pads and lovely golden eyes. She is the daughter of ee lite golden Punkin (chocolate carrier) and parti Jasper (chocolate and blonde carrier). We have big plans for her in our breeding program. A match with chocolate Russell Stover (see Studs page) could be interesting, as he carries blonde and parti and has produced blonde chocolate, ee golden chocolate and ay sable chocolate.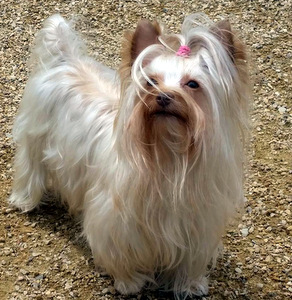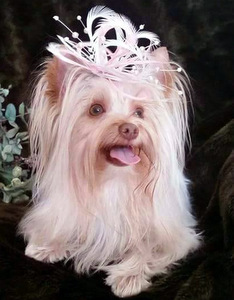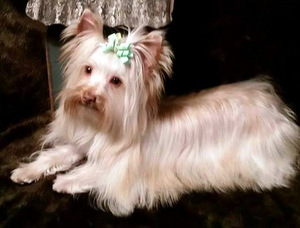 Chandler Run's
Parti with Chocolate
Jubilee
AKC reg w/ AKC DNA
6.5 pounds
Chocolate parti
Carries blonde
Introducing a lovely chocolate parti female named Jubilee in celebration of her joyful personality and colorful silky coat.Stay in touch with our Chandler Run Facebook page to see the beautiful puppies she will produce for us!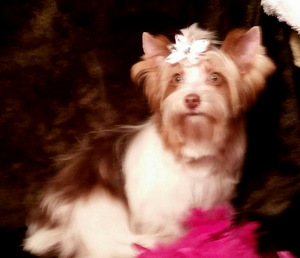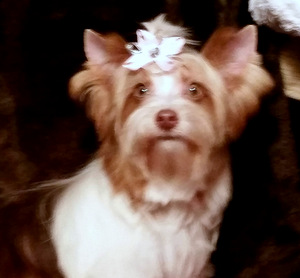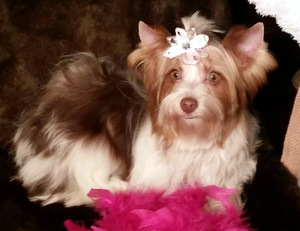 Chandler Run's Krystal Star
5.5 pounds
AKC reg w/ AKC DNA
Platinum blonde
Carries parti and chocolate
5 generations by Chandler Run
Here is the lovely Krystal. This platinum blonde female is already producing beautiful puppies with awesome colors. We love her sweet little Yorkie face and are delighted to see it showing up in her offspring.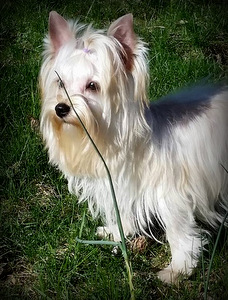 Chandler Run's Fanci Me Skittles
AKC reg w/ AKC DNA
5 pounds
Traditional parti
Carries blonde and chocolate
AKC DNA on female lines for five generations
Just look at the soft, silky coat on our sweet little Skittles. We'll be posting pictures of her beautiful puppies after our fall breeding program, so check out our Chandler Run Facebook page in the coming months for those!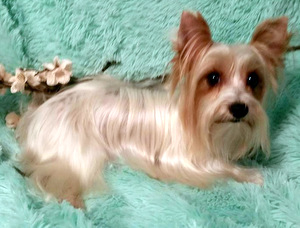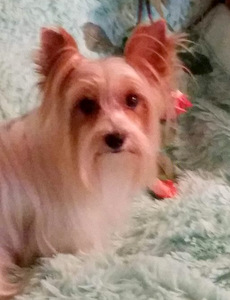 Chandler Run's Lacey Love
AKC reg w/ AKC DNA
5 pounds
Extreme white blonde parti
Carries chocolate
5 generations by Chandler Run
Chandler Run is so fortunate to have this little lady with the sweet and loving personality who is already producing beautiful puppies of color.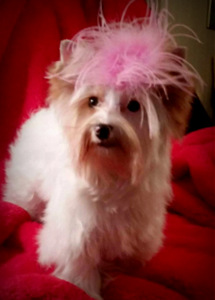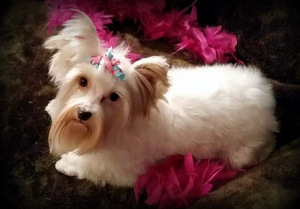 Chandler Run's
Lily of the Valley
AKC reg w/ AKC DNA
6.5 lb
Blonde
Carries for chocolate and parti
Lily is being added to our breeding program and will be bred to our chocolate stud Stover in the future. She is granddaughter to our Thumbaleena on one side and granddaughter to our stud Stedmen on the other side. Testing with Animal Genetics reveals that she carries chocolate and parti. Just look at her beautiful blonde silk coat, but what you can't see is another great asset, her captivating personality!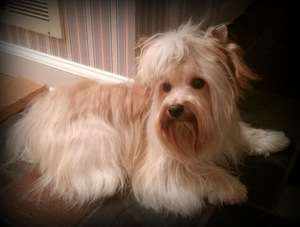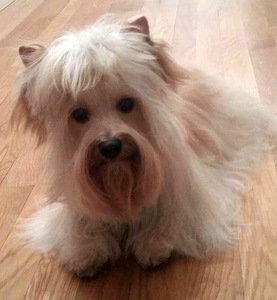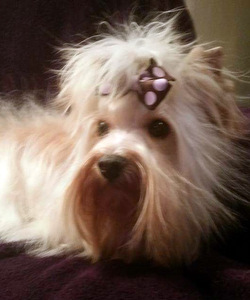 Chandler Run's
Ice Princess
AKC reg w/ AKC DNA
Extreme white blonde parti
6.5 lb
This lovely extreme white blonde parti has a sweet temperament, is sociable with other Yorkies, and even plays with the cat. Her long silky coat is a standout! (She has a haircut in this picture.) She was the pick of the litter from our blonde Palamino (who carries parti) and her mother was daughter to our parti Camelot. She should produce outstanding puppies.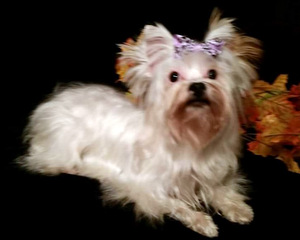 Chandler Run's
Fantasia Mae
AKC reg w/ AKC DNA
Traditional parti
Carries chocolate and blonde
Fantasia is daughter of blonde Charm and parti Jasper, and she also carries chocolate. We anticipate beautiful puppies in the tradition of her mother (retired, see below). She is small, and we are hoping she will be 5 lb by fall, when we anticipate pairing her with chocolate Stover or blonde-chocolate Sterling. This beautiful lady is fifth-generation DNA with AKC on the female side.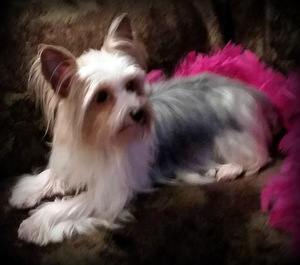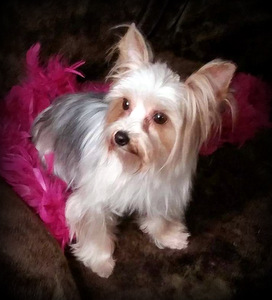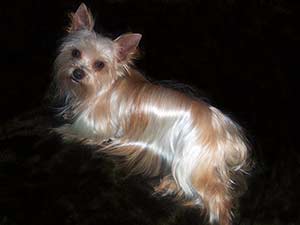 Charm (RETIRED)
Blonde
AKC reg w/AKC DNA
5 lb
This is the blonde color breeders dream of and Yorkie owners treasure. Look at her beautiful, silky coat and small face. What you can't see is her joyful personality. She has produced platinum blonde and parti puppies and carries for light golden. All these characteristics make Charm a prize breeder for Chandler Run..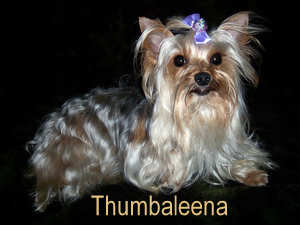 Thumbaleena (RETIRED)
RETIRED
Traditional
AKC reg w/AKC DNA
5.5 lb
Carrier, Blonde and Parti
Thumbaleena has produced golden, platinum blonde and parti puppies. With her adorable face, silky coat, and sweet temperament, she has been a great asset to our breeding program, and though she is retired, she is mother to our golden Trinket, parti Camelot, light golden parti Navaeh, and to Carla Hoggats' platinum blonde Apollo.