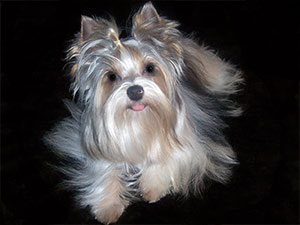 We're glad you found our Yorkie Valley web page. Chandler Run is the home of AKC-registered Yorkshire Terrier adults and puppies, a delightful tiny breed characterized by an adventurous spirit, vivacious eyes, and silky coat. Their affectionate nature and intelligence combine to make the adorable "Yorkie" a wonderful pet.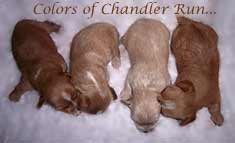 The line "Excellence From Experience" under the heading is more than just a slogan. We have four decades of experience in breeding dogs, and have raised AKC-registered Yorkshire Terriers for two decades. Our Yorkies are bred for quality, temperament, size, coat, and color. We have two interests -- finding good homes for our puppies and connecting you with the pet you've been looking for. Other breeders, aware of our reputation for healthy puppies with sought-after colors, come to us to enhance their own breeding programs.
We also offer stud service with our carefully chosen Yorkshire Terrier males. Check out our Stud Service page for photos of our current and upcoming breeders. Also check new on the latest females Yorkies that have been added to our breeding program.
For the most up-to-date pictures of our puppies for sale, dates of upcoming litters, and current news from Chandler Run, check out the Puppies Page, where you will find a link to our Facebook business page with pictures of our latest puppies.
Questions? Contact us for more information. Your inquiry will be met with a helpful, friendly attitude. We would love to help you find the perfect Yorkie companion!
Where do our puppies go?
Here are Larry and Harley out cruisin'
(just one example of a happy home)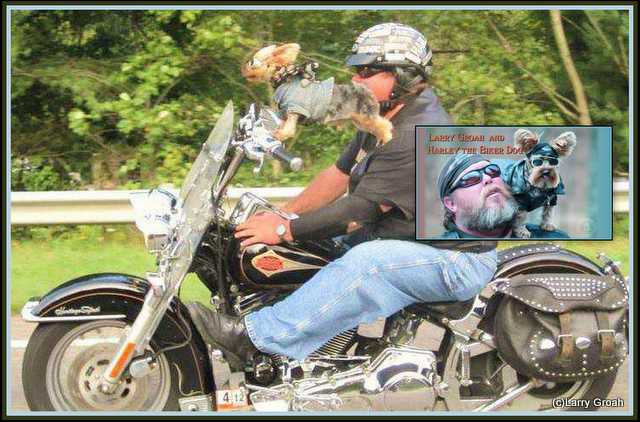 Fear not, Harley always wore a safety harness and had his own driver's license.

This little fella was carefully tended from birth by Cindy to save his life, because he was born with a hair lip. Larry Groah offered to babysit when Cindy had to go on vacation. The two became inseparable. Harley was then given to Groah and the partnership began.